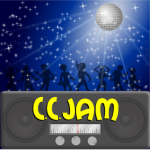 In episode 54 of CCJam, Yannick features the music of Ukrainian hard rock band Scream Inc..
They are a hard rock band, who began as a Metallica tribute band, back in 2008. Since 2015, they started playing their own stuff, and they now have five singles, all present on an EP called Inception, which was released on Jamendo in April this year.
Find more about Scream Inc. on their website or their Facebook page.
The tracks included on this episode are:

Podcast: Play in new window | Download
Subscribe: RSS

Podcast (ogg): Play in new window | Download
Subscribe: RSS